Answer
Skin biopsy reveals the presence of vascular and perivascular infiltration of polymorphonuclear leukocytes with formation of nuclear dust (leukocytoclasis), extravasation of erythrocytes, and fibrinoid necrosis of the vessel walls (see image below). This process is dynamic, and biopsy of a lesion performed too early or too late in the evolution of LCV may not reveal these findings. The presence of eosinophils has been correlated with drug-associated disease. Neutrophilia has been associated with severe bacterial infections. [38]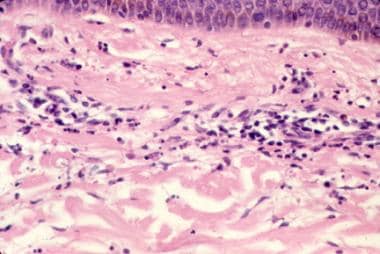 Histopathology of leukocytoclastic vasculitis.
---
Did this answer your question?
Additional feedback? (Optional)
Thank you for your feedback!