Answer
The urticarial lesions associated with LCV differ from those of classic urticaria. The following three characteristics of these lesions, although not always present in every patient, are typical of urticarial vasculitis:
Longer duration (often >24 h)

Residual pigmentation or ecchymosis after resolution (see the image below)

Patients experience more burning than itching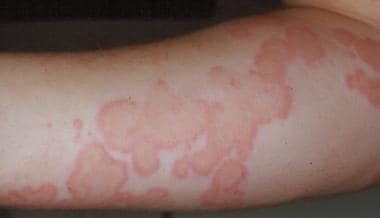 Urticarial vasculitis. Lesions differ from routine urticaria (hives) in that they last longer (often >24 h), are less pruritic, and often resolve with a bruise or residual pigmentation.
---
Did this answer your question?
Additional feedback? (Optional)
Thank you for your feedback!