Answer
Leukocytoclastic vasculitis (LCV), also known as hypersensitivity vasculitis and hypersensitivity angiitis, is a histopathologic term commonly used to denote a small-vessel vasculitis (see the image below). [2] Histologically, LCV is characterized by leukocytoclasis, which refers to vascular damage caused by nuclear debris from infiltrating neutrophils. LCV classically presents as palpable purpura. Less common clinical findings include urticarial plaques, vesicles, bullae, and pustules.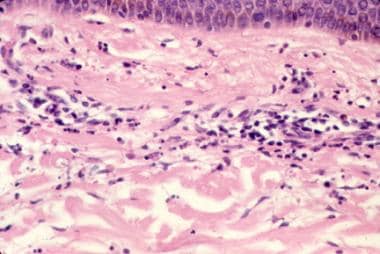 Histopathology of leukocytoclastic vasculitis.
---
Did this answer your question?
Additional feedback? (Optional)
Thank you for your feedback!