Answer
MRI is the most sensitive and specific imaging procedure for AVN, of the hip with an overall sensitivity that exceeds 90%. The specificity of MRI is also very high. The use of gadolinium is particularly useful in early detection.
MRI findings of AVN include decreased signal intensity in the subchondral region on both T1- and T2-weighted images, suggesting edema (water signal) in early disease. This relatively nonspecific finding is often localized in the medial aspect of the femoral head. This abnormality is observed in 96% of cases.
The next stage is characterized by a reparative process (reactive zone) and shows low signal intensity on T1-weighted scans and high signal intensity on T2-weighted scans. This finding is diagnostic for AVN (see images below).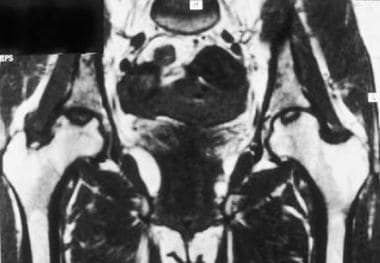 Avascular necrosis of both femoral heads. This T1-weighted image shows decreased signal intensity in both femoral heads.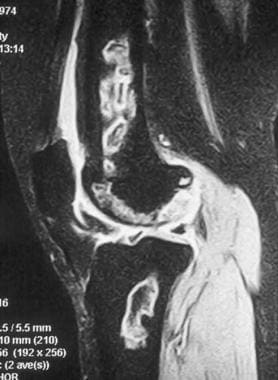 MRI of the distal femur and proximal tibia. This T2-weighted image shows increased signal intensity in the marrow.
Advanced AVN is characterized by deformity of the articular surface and by calcification, which are also easily detected with radiography and CT scanning.
---
Did this answer your question?
Additional feedback? (Optional)
Thank you for your feedback!