Answer
Physical findings can be nonspecific and misleading. Therefore, a high index of suspicion is required for diagnosis.
Suspicious signs for carditis include new or changing valvular murmurs, cardiomegaly, congestive heart failure, and/or pericarditis. Nearly 60% of patients with carditis develop isolated mitral valve involvement, followed in prevalence by combined mitral and aortic valve involvement.
When present, Sydenham chorea is seldom evident at the time of initial presentation. Erythema marginatum and subcutaneous nodules are rare (< 10% of patients). See the image below.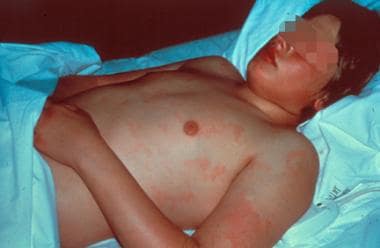 Erythema marginatum, the characteristic rash of acute rheumatic fever.
Arthritis, which occurs in 80% of patients, usually involves multiple large joints, particularly the knees, ankles, elbows, and wrists. Hips and smaller joints of hands and feet are less commonly involved.
Migratory polyarthritis is usually associated with a febrile illness. It involves a series of painful joints, followed by another series of painful joints. This form of arthritis rarely causes permanent joint deformity.
Unusual presentations, such as indolent carditis and isolated chorea, may also occur. Even rarer manifestations include epistaxis and abdominal pain due to serositis.
---
Did this answer your question?
Additional feedback? (Optional)
Thank you for your feedback!