Answer
Radiographs of other areas may show evidence of enthesitis with osteitis or arthropathy. Radiographs of the pelvis may show ossification of various entheses, such as the iliac crest, ischial tuberosity, and femoral trochanter, which is termed whiskering. Occasionally, the symphysis pubis develops erosive changes (osteitis pubis).
Peripheral entheses may develop radiographic changes, including erosion, periosteal new bone formation, and finally, ossification, especially in the feet at the insertion of the Achilles tendon and the plantar fascia on the calcaneus.
Peripheral joint involvement is most common in the hips and shoulders and may result in uniform joint space narrowing, cystic or erosive changes, deformation, and subchondral sclerosis without osteopenia (see the image below). Heterotopic bone formation may occur after total joint replacement, especially in the hip. Ultimately, peripheral joints may undergo ankylosis. See the radiographs below for an example.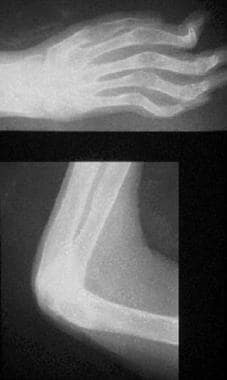 Radiographs of hand (top) and arm (bottom) of patient with peripheral involvement of ankylosing spondylitis. Fusion of joint spaces and deformity can be observed.
Patients with AS are vulnerable to cervical spine fractures. Long-standing pain may mask the symptoms of fracture. On radiographs, the distorted anatomy, ossified ligaments, and artifacts may obscure the fracture.
A retrospective case series of 32 patients with AS and cervical spine fractures revealed that in 19 patients (59.4%), a fracture was not identified on plain radiographs. [90] Only 5 patients (15.6%) presented immediately after the injury. Of the 15 patients (46.9%) who were initially neurologically intact, 3 patients had neurologic deterioration before admission. Early diagnosis with appropriate radiologic investigations may prevent possible long-term neurologic cord damage.
Patients with a history of AS who report any recent trauma or an increased level of back or neck pain should be fully evaluated for the possibility of a vertebral fracture and subsequent spinal instability (see the image below).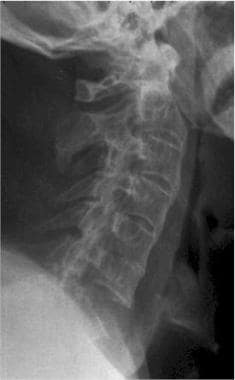 Radiograph shows vertebral fracture in patient with ankylosing spondylitis.
---
Did this answer your question?
Additional feedback? (Optional)
Thank you for your feedback!