Answer
According to the ASAS, criteria for peripheral SpA are the absence of back pain and the presence, usually in a person under 45 years old, of peripheral arthritis (usually lower limb predominant and asymmetric), enthesitis, or dactylitis, alone or in combination, along with one of two sets of additional features.
The first set consists of one or more of the following:
Inflammatory bowel disease

Sacroiliitis on imaging (radiographs or MRI)
The second set consists of two or more of the following:
Past history of inflammatory back pain

Positive family history of SpA
Rudwaleit et al evaluated the ASAS classification criteria for peripheral SpA and found that, with a sensitivity of 77.8% and a specificity of 82.9%, the ASAS criteria performed better than modified versions of the ESSG (sensitivity 62.5%, specificity 81.1%) and the Amor criteria (sensitivity 39.8%, specificity 97.8%). [88]
In recent years, classification criteria have been developed to increase sensitivity in order to include patients who are early in the course of their disease. Recent classification criteria for spondyloarthropathy have been developed for patients with predonminantly axial disease [89] and those with predominantly peripheral disease [88] . An important change is that criteria can be met without a radiographic criterion and that axial changes on MRI are included in the criteria for axial spondyloarthropathy.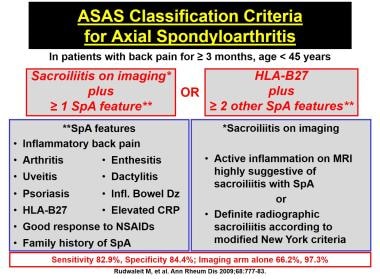 ASAS Classification Criteria for Axial Spondyloarthropathy.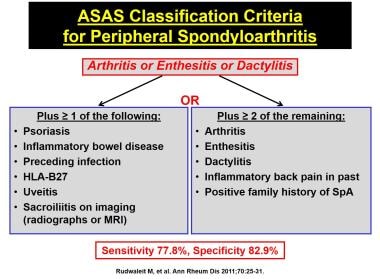 ASAS Classification Criteria for Peripheral Spondyloarthropathy.
---
Did this answer your question?
Additional feedback? (Optional)
Thank you for your feedback!