Answer
Ankylosing spondylitis (AS) is a chronic, multisystem inflammatory disorder primarily involving the sacroiliac (SI) joints and the axial skeleton. Other clinical manifestations include peripheral arthritis, enthesitis, and extra-articular organ involvement. [14, 15, 16, 17] AS has been designated by various names, including rheumatoid spondylitis in the American literature, spondyloarthrite rhizomegalique in the French literature, and the eponyms Marie-Strümpell disease and von Bechterew disease.
AS is the prototype of the spondyloarthropathies, a family of related disorders that also includes reactive arthritis (ReA), psoriatic arthritis (PsA), spondyloarthropathy associated with inflammatory bowel disease (IBD), undifferentiated spondyloarthropathy (USpA), and, possibly, Whipple disease and Behçet disease (see the image below). The spondyloarthropathies are linked by common genetics (the human leukocyte antigen [HLA] class-I gene HLA-B27) and a common pathology (enthesitis).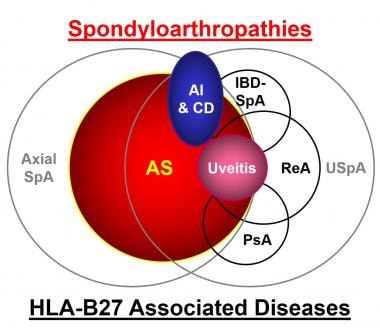 Family of spondyloarthropathies and HLA-B27 associated diseases
AS is classified as a spondyloarthropathy. The disorder is often found in association with other spondyloarthropathies, including ReA, PsA, ulcerative colitis (UC), and Crohn disease. Patients often have a family history of either AS or another spondyloarthropathy.
The etiology of AS is not understood completely; however, a strong genetic predisposition exists. [18, 5] A direct relationship between AS and the HLA-B27 gene has been determined. [19, 20, 21, 22] The precise role of HLA-B27 in precipitating AS remains unknown; however, it is believed that HLA-B27 may resemble or act as a receptor for an inciting antigen (eg, a bacterial antigen).
The diagnosis of AS is generally made by combining clinical criteria of inflammatory back pain and enthesitis or arthritis with radiological findings. Early diagnosis is important because early medical and physical therapy may improve functional outcome. As with any chronic disease, patient education is vital to familiarize the patient with the symptoms, course, and treatment of the disease. Treatment measures include pharmacologic, physical therapy, and surgical.
---
Did this answer your question?
Additional feedback? (Optional)
Thank you for your feedback!