Answer
Takayasu arteritis is a rare, systemic, inflammatory large-vessel vasculitis of unknown etiology that most commonly affects women of childbearing age. [1] It is defined as "granulomatous inflammation of the aorta and its major branches" by the Chapel Hill Consensus Conference on the Nomenclature of Systemic Vasculitis. [2] See the image below. (See Etiology and Epidemiology.)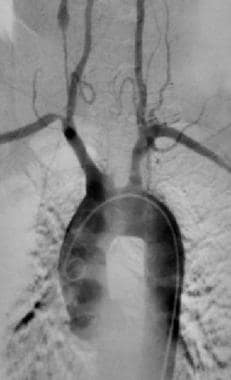 Complete occlusion of the left common carotid artery in a 48-year-old woman with Takayasu disease. Also note narrowing of the origin of the right subclavian artery and a narrowed small vessel with subsequent aneurysmal dilatation on the right side. Image courtesy of Robert Cirillo, MD.
Takayasu arteritis commonly occurs in woman younger than age 50 years; however, it has been reported in patients as young as age 6 months (see Pediatric Takayasu Arteritis). Takayasu arteritis can manifest as isolated, atypical, and/or catastrophic disease. It can involve any or all of the major organ systems. The disease has been reported in all parts of the world, although it appears to be more prevalent in Asians. (See Epidemiology.)
---
Did this answer your question?
Additional feedback? (Optional)
Thank you for your feedback!