Answer
Echocardiography is used to assess for pericardial effusion, pulmonary hypertension, or verrucous Libman-Sacks endocarditis (see the image below).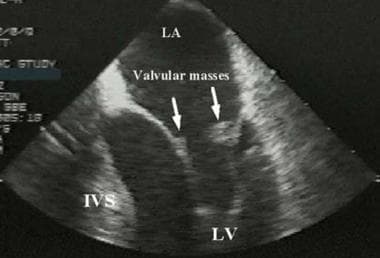 Libman-Sacks endocarditis is the most characteristic cardiac manifestation of lupus. It is characterized by clusters of verrucae on the ventricular surface of the mitral valve. These lesions consist of accumulation of immune complexes, platelets, and mononuclear cells. This can lead to heart failure, valvular dysfunction, emboli, and secondary infective endocarditis. Diagnosis is best made via echocardiography, which may reveal the characteristic valvular masses (arrows). IVS = interventricular septum; LA = left atrium; LV = left ventricle.
---
Did this answer your question?
Additional feedback? (Optional)
Thank you for your feedback!