Answer
Joint radiography often provides little evidence of systemic lupus erythematosus (SLE), even in the presence of Jaccoud arthropathy with deformity or subluxations. The most common radiographic anomalies in SLE are periarticular osteopenia and soft-tissue swelling without erosions.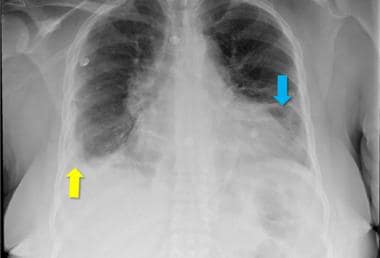 The chest x-ray from a patient with lupus demonstrates a right-sided pleural effusion (yellow arrow) and atelectasis with scarring in the left lung base (blue arrow). In severe complications, a fibrothorax may develop.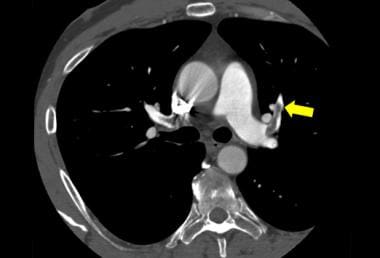 Vasculitis, antiphospholipid antibodies, and renal failure are commonly found in patients with lupus; these conditions greatly increase the risk of developing pulmonary emboli. The diagnosis in a patient with shortness of breath, hemoptysis, and pleuritic chest pain is commonly made with ventilation-perfusion scans or computed tomography (CT) angiography. The CT angiogram demonstrates a filling defect in the left anterior segmental artery (arrow).
---
Did this answer your question?
Additional feedback? (Optional)
Thank you for your feedback!