Answer
Photosensitive rash is often macular or diffusely erythematous in sun-exposed areas of the face, arms, or hands and generally persists for more than 1 day (see the image below).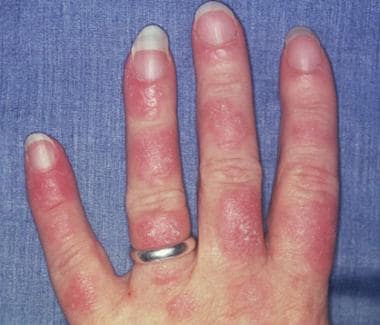 Photosensitive systemic lupus erythematosus (SLE) rashes typically occur on the face or extremities, which are sun-exposed regions. Although the interphalangeal spaces are affected, the metacarpophalangeal (MCP) and proximal interphalangeal (PIP) and distal interphalangeal (DIP) joints are spared. Photo courtesy of Dr. Erik Stratman, Marshfield Clinic.
---
Did this answer your question?
Additional feedback? (Optional)
Thank you for your feedback!