Answer
Malar rash is a fixed erythema that typically spares the nasolabial folds. It is a butterfly-shaped rash that can be flat or raised over the cheeks and bridge of the nose (see the images below).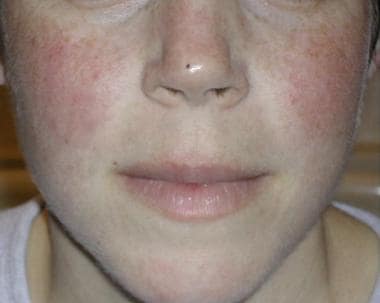 The classic malar rash, also known as a butterfly rash, with distribution over the cheeks and nasal bridge. Note that the fixed erythema, sometimes with mild induration as seen here, characteristically spares the nasolabial folds.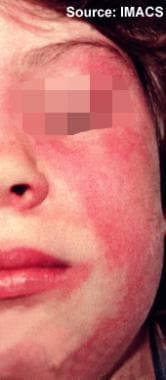 Dermatomyositis. Acute onset of confluent macular erythema in a periorbital and malar distribution (involving the cheeks and extending over the nasal bridge), with extension to the chin in a female with juvenile dermatomyositis. Note the perioral sparing. In some patients, there may be more extensive involvement of the face, including the perioral region, forehead, lateral face, and ears. In contrast to SLE , in dermatomyositis with malar erythema, the nasolabial folds are often not spared.
---
Did this answer your question?
Additional feedback? (Optional)
Thank you for your feedback!