Answer
Although the specific cause of SLE is unknown, multiple genetic predispositions and gene-environment interactions have been identified (see the chart in the image below). This complex situation perhaps explains the variable clinical manifestations in persons with SLE.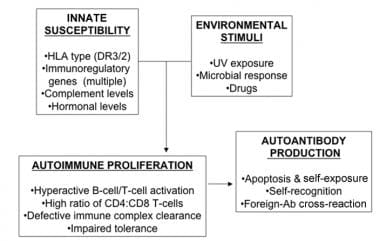 In systemic lupus erythematosus (SLE), many genetic-susceptibility factors, environmental triggers, antigen-antibody (Ab) responses, B-cell and T-cell interactions, and immune clearance processes interact to generate and perpetuate autoimmunity. HLA = human leukocyte antigen; UV = ultraviolet light.
---
Did this answer your question?
Additional feedback? (Optional)
Thank you for your feedback!