Answer
SLE is an autoimmune disorder characterized by multisystem inflammation with the generation of autoantibodies. Although the specific cause of SLE is unknown, multiple factors are associated with the development of the disease, including genetic, epigenetic, ethnic, immunoregulatory, hormonal, and environmental factors. [9, 10, 11, 11] Many immune disturbances, both innate and acquired, occur in SLE (see the image below).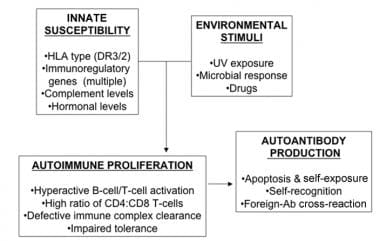 In systemic lupus erythematosus (SLE), many genetic-susceptibility factors, environmental triggers, antigen-antibody (Ab) responses, B-cell and T-cell interactions, and immune clearance processes interact to generate and perpetuate autoimmunity. HLA = human leukocyte antigen; UV = ultraviolet light.
---
Did this answer your question?
Additional feedback? (Optional)
Thank you for your feedback!