Answer
Systemic lupus erythematosus (SLE) is an autoimmune disorder characterized by antibodies to nuclear and cytoplasmic antigens, multisystem inflammation, protean clinical manifestations, and a relapsing and remitting course. More than 90% of cases of SLE occur in women, frequently starting at childbearing age. See the image below.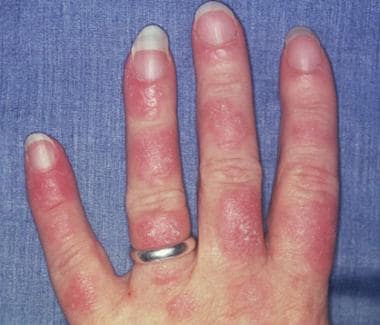 Photosensitive systemic lupus erythematosus (SLE) rashes typically occur on the face or extremities, which are sun-exposed regions. Although the interphalangeal spaces are affected, the metacarpophalangeal (MCP) and proximal interphalangeal (PIP) and distal interphalangeal (DIP) joints are spared. Photo courtesy of Dr. Erik Stratman, Marshfield Clinic.
See Cutaneous Clues to Accurately Diagnosing Rheumatologic Disease, a Critical Images slideshow, to help recognize cutaneous manifestations of rheumatologic diseases. Also, see the Autoimmune Disorders: Making Sense of Nonspecific Symptoms slideshow to help identify several diseases that can cause a variety of nonspecific symptoms.
---
Did this answer your question?
Additional feedback? (Optional)
Thank you for your feedback!