Answer
Systemic sclerosis is a systemic disease that besides the skin affects numerous organ systems. The pathogenesis of systemic sclerosis is complex. [6, 7, 8, 9, 10, 11, 12, 13] Increasing evidence suggests interaction between environmental and genetic factors, with a regulatory epigenetic mechanism involving changes in the expression of DNA and microRNA. [14]
The clinical and pathologic manifestations result from three distinct processes: 1) severe fibroproliferative vascular lesions of small arteries and arterioles, 2) excessive and often progressive deposition of collagen and other extracellular matrix (ECM) macromolecules in skin and various internal organs, and 3) alterations of humoral and cellular immunity. It is not clear which of these processes is of primary importance or how they are temporally related during the development and progression of the disease.
Numerous studies have suggested a sequence of pathogenetic events initiated by unknown etiologic factors in a genetically receptive host, which trigger microvascular injury characterized by structural and functional endothelial cell abnormalities. The endothelial cell abnormalities result in either increased production and release of numerous and potent mediators including cytokines, chemokines, polypeptide growth factors, and various other substances such as prostaglandins, reactive oxygen species (ROS), or in the reduction of important compounds such as prostacyclin and nitric oxide.
The endothelial cell dysfunction allows the chemokine- and cytokine-mediated attraction of inflammatory cells and fibroblast precursors (fibrocytes) from the bloodstream and bone marrow and their transmigration into the surrounding tissues, resulting in the establishment of a chronic inflammatory process with participation of macrophages and T and B lymphocytes, with further production and secretion of cytokines and growth factors from these cells.
The immunological alterations include innate immunity abnormalities, tissue infiltration with macrophages and T and B lymphocytes; production of numerous disease-specific autoantibodies; and dysregulation of cytokine, chemokine, and growth factor production. The released cytokines and growth factors induce the activation and phenotypic conversion of various cellular types, including resident fibroblasts, epithelial cells, endothelial cells, and pericytes into activated myofibroblasts, the cells ultimately responsible for initiation and establishment of the fibrotic process.
This sequence of events (see diagram below) results in the development of a severe and often progressive fibroproliferative vasculopathy, and exaggerated and widespread accumulation of fibrotic tissue, the hallmark of the fibrotic process characteristic of the disease.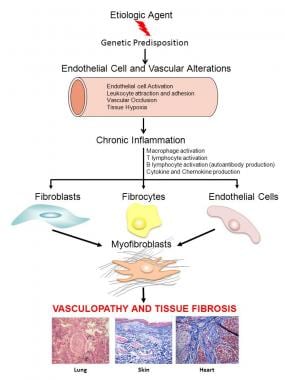 Overall scheme illustrating a current understanding of SSc pathogenesis. Hypothetical sequence of events involved in tissue fibrosis and fibroproliferative vasculopathy in SSc. An unknown causative agent induces activation of immune and inflammatory cells in genetically predisposed hosts resulting in chronic inflammation. Activated inflammatory and immune cells secrete cytokines, chemokines, and growth factors which cause fibroblast activation, differentiation of endothelial and epithelial cells into myofibroblasts, and recruitment of fibrocytes from the bone marrow and the peripheral blood circulation. The activated myofibroblasts produce exaggerated amounts of ECM resulting in tissue fibrosis.
---
Did this answer your question?
Additional feedback? (Optional)
Thank you for your feedback!