Answer
Early in the course of the RA disease process, there is an influx of inflammatory cells into the synovial membrane, with subsequent angiogenesis, proliferation of chronic inflammatory (mononuclear) cells and resident synovial cells, and marked histologic changes—a 2-cell-layer lining membrane changes to a thickened membrane that often has villous projections into the joint space (see the images below).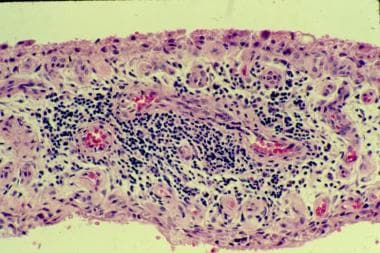 Rheumatoid arthritis. The hallmark of rheumatoid arthritis is a perivascular mononuclear cell infiltrate in the synovium (pictured here). The early stages are noted to have plasma cells as well, and syphilis needs to be part of the differential diagnosis.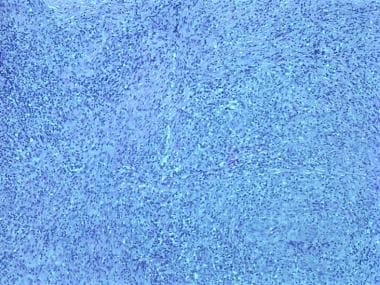 Rheumatoid arthritis. The inflammation involved in rheumatoid arthritis can be intense. It is composed of mononuclear cells and can resemble a pseudosarcoma.
The lymphoplasmacytic infiltration of the synovium with neovascularization seen in RA is similar to that seen in other conditions characterized by inflammatory synovitis. Early rheumatoid nodules are characterized by small-vessel vasculitis and later by granulomatous inflammation.
---
Did this answer your question?
Additional feedback? (Optional)
Thank you for your feedback!