Answer
Ultrasonography of joints (see the image below) is gaining increased widespread acceptance in clinical practice; however, its use in RA is not yet the standard of care. [54, 55, 56, 57] Ultrasonography allows recognition of effusions in joints that are not easily accessible (eg, the hip and, in obese patients, the shoulder) and of cysts (Baker cysts). In addition, high-resolution sonograms allow visualization of tendon sheaths, changes and degree of vascularization of the synovial membrane, and even erosions. Ultrasonography can often be done in the office.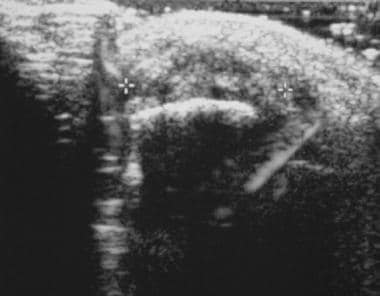 Rheumatoid arthritis. Ultrasonography-guided synovial biopsy of the second metacarpophalangeal joint of the right hand in a patient with rheumatoid arthritis of the hands. The biopsy needle is seen as a straight echogenic line on the left side of the image in an oblique orientation.
---
Did this answer your question?
Additional feedback? (Optional)
Thank you for your feedback!