Answer
Magnetic resonance imaging (MRI) provides a more accurate assessment and earlier detection of lesions than radiography does [53] ; however, the cost of the examination and the small size of the joints involved militate against its widespread use. MRI is used primarily in patients with abnormalities of the cervical spine (see the images below); early recognition of erosions on the basis of MRI images has been sufficiently validated.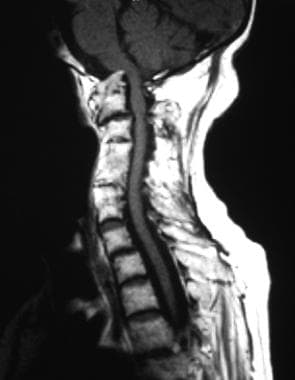 Rheumatoid arthritis. T1-weighted sagittal magnetic resonance image of the cervical spine shows basilar invagination with cranial migration of an eroded odontoid peg. There is minimal pannus. The tip of the peg indents the medulla, and there is narrowing of the foramen magnum due to the presence of the peg. Inflammatory fusion of several cervical vertebral bodies is shown.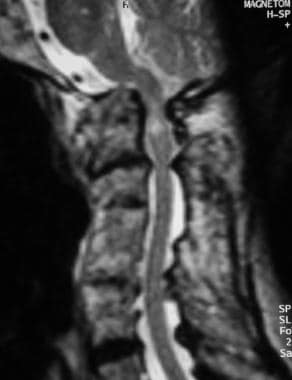 Sagittal T2-weighted magnetic resonance image of cervical spine in same patient as in previous image. Compromised foramen magnum is easily appreciated, and there is increased signal intensity within upper cord; this is consistent with compressive myelomalacia. Further narrowing of canal is seen at multiple levels.
---
Did this answer your question?
Additional feedback? (Optional)
Thank you for your feedback!