Answer
Joint effusions may also contribute to swelling by distending the joint. When the effusion is put under increased pressure with joint flexion, the synovium may be forced between articular structures, with the result that a portion becomes trapped and separated from the rest of the joint, forming a Baker cyst (see the image below). More fluid is forced into the structure with subsequent loading of the distended joint, and a 1-way valve effect may prevent the fluid from returning to the joint.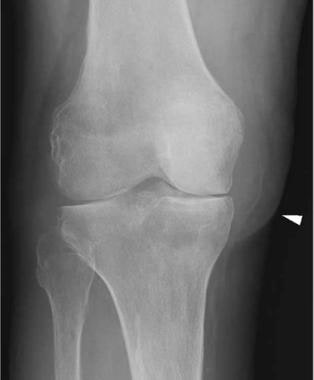 Rheumatoid arthritis. Anteroposterior radiograph of the knee shows uniform joint-space loss in the medial and lateral knee compartments without osteophytosis. A Baker cyst is seen medially (arrowhead).
---
Did this answer your question?
Additional feedback? (Optional)
Thank you for your feedback!