Answer
Elbow involvement is often detected by palpable synovial proliferation at the radiohumeral joint and is commonly accompanied by a flexion deformity, such as in contractures. Involvement of the olecranon bursa is common, as are rheumatoid nodules in the bursa and along the extensor surface of the ulna (see the image below).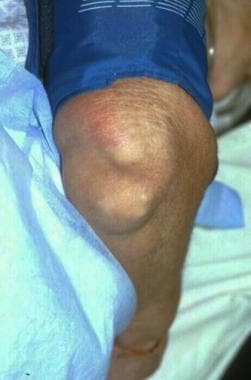 Rheumatoid arthritis. Rheumatoid nodules at the elbow. Photograph by David Effron MD, FACEP.
---
Did this answer your question?
Additional feedback? (Optional)
Thank you for your feedback!