Answer
Two typical deformities that alter the alignment of the palmar skeletal arches and the stability of the fingers may occur at the MCP joints: volar subluxation and ulnar deviation (see the image below).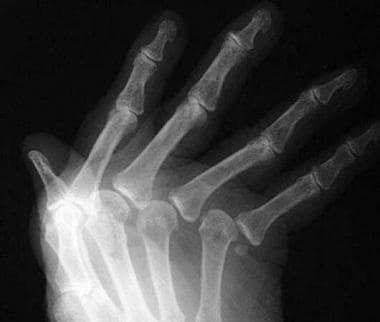 Rheumatoid arthritis. Subluxation in the metacarpophalangeal joints, with ulnar deviation, in a patient with rheumatoid arthritis of the hands.
Most cases of ulnar deviation are accompanied by counterpoised radial deviation of the wrist, roughly proportional to the degree of ulnar deviation of the fingers. The volar plate is firmer and more substantial than other portions of the MCP joint capsule, thus effectively limiting extension and dorsal movement at the joint. The greater strength of the flexor muscles relative to the extensor muscles causes volar migration of the proximal phalanx after synovial-based inflammation has weakened ligament and tendon insertions about the MCP joint capsule.
Ulnar deviation occurs after synovitis has led to stretching and attenuation of the volar plate and collateral ligaments, allowing dislocation of the flexor tendon volarward and ulnarward. The supporting structures of the extensor tendons also may become attenuated or destroyed by synovial distention and invasion, loosening the tendons so that they no longer ride centrally and dorsally over the metacarpal head but move into the cleft between the MCP joints.
If the extensor tendon subluxation is beyond the transverse axis of the MCP joint, the tendon becomes a flexor at that joint, further limiting the active extension of the fingers.
---
Did this answer your question?
Additional feedback? (Optional)
Thank you for your feedback!