Answer
Swan-neck deformity of the finger describes hyperextension at the PIP joint with flexion of the DIP joint (see the image below).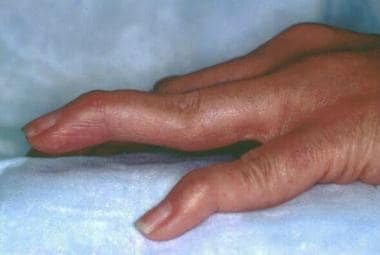 Rheumatoid arthritis. Rheumatoid changes in the hand. Photograph by David Effron MD, FACEP.
This deformity may be initiated either (a) by disruption of the extensor tendon at the DIP joint, with secondary shortening of the central extensor tendon and hyperextension of the PIP joint, or (b) by volar herniation of the PIP joint capsule due to weakening from chronic synovitis, with subsequent tightening of the lateral bands and central extensor tendon. The lateral bands may become shortened over time and lie dorsally, limiting PIP flexion and ineffectively extending the DIP joint.
---
Did this answer your question?
Additional feedback? (Optional)
Thank you for your feedback!