Answer
Ultimately, inflammation and exuberant proliferation of the synovium (ie, pannus) leads to destruction of various tissues, including cartilage (see the image below), bone, tendons, ligaments, and blood vessels. Although the articular structures are the primary sites involved by RA, other tissues are also affected.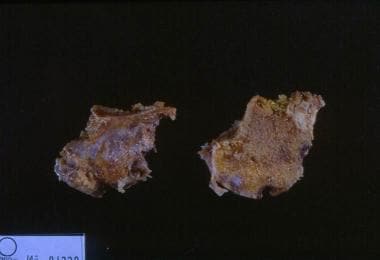 Rheumatoid arthritis. This gross photo shows destruction of the cartilage and erosion of the underlying bone with pannus from a patient with rheumatoid arthritis.
---
Did this answer your question?
Additional feedback? (Optional)
Thank you for your feedback!