Answer
Rheumatoid arthritis (RA) is a chronic systemic inflammatory disease of unknown cause. An external trigger (eg, cigarette smoking, infection, or trauma) that triggers an autoimmune reaction, leading to synovial hypertrophy and chronic joint inflammation along with the potential for extra-articular manifestations, is theorized to occur in genetically susceptible individuals. See the image below.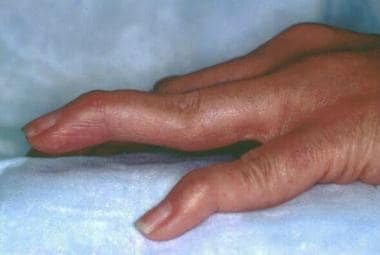 Rheumatoid changes in the hand. Photograph by David Effron MD, FACEP.
See Rheumatoid Arthritis: In and Out of the Joint, a Critical Images slideshow, to help identify the distinguishing features of RA as well as the signs of extra-articular manifestations of this disfiguring disease.
---
Did this answer your question?
Additional feedback? (Optional)
Thank you for your feedback!