Answer
Skin lesions are found in 17%-39% of patients with relapsing polychondritis. Specific lesions are limited to erythema and edema overlying the inflamed cartilaginous structures. See the image below.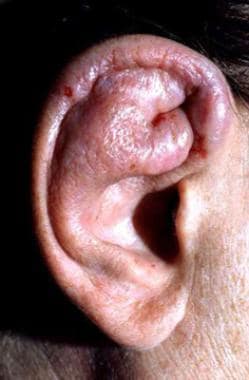 Severe auricular edema and inflammation. Courtesy of the University of Washington, Division of Dermatology.
Various nonspecific skin lesions have been reported, as follows:
Limb nodules, purpura, papules, sterile pustules, superficial phlebitis, livedo reticularis, limb ulceration, and distal necrosis have been reported.

Some findings likely represent the skin manifestations of the many conditions associated with relapsing polychondritis rather than specific manifestations of relapsing polychondritis itself.

Cutaneous vasculitis: The prevalence of biopsy-proven cutaneous (small vessel) leukocytoclastic vasculitis is approximately 10%, while the prevalence of systemic (including skin) medium-to-large vessel vasculitis ranges from 11%-56%. It may appear as in its typical form of palpable purpura or as hemorrhagic bullae, typically on the lower extremities or other dependent areas.

Cutaneous polyarteritis nodosa: A patient with relapsing polychondritis presented with relapsing painful red nodules from 1-3 cm in size, occurring on the entire skin and accompanied by arthralgias and myalgias.
Other cutaneous lesions reported in patients with relapsing polychondritis and vasculitis included the following:
Localized ulcerating neutrophilic conditions resembling pustules, furuncles, abscesses, and ulcerating abscesses

Panniculitis: This is characterized by 5- to 10-cm tender erythematous nodules showing septal and lobular inflammation. [36]
---
Did this answer your question?
Additional feedback? (Optional)
Thank you for your feedback!