Answer
Of patients with relapsing polychondritis, 50%-65% develop ocular sequelae related to episodic inflammation of the uveal tract, conjunctivae, sclerae, and/or corneas. The most common conditions are episcleritis (39%) and scleritis (14%). See the image below. Collagen types II, IX, and XI are found in the cornea and sclera. Autoantibodies to these collagens, which are found in patients with relapsing polychondritis, may be responsible for direct harm to the eyes.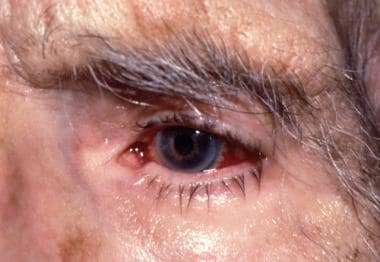 Unilateral episcleritis. Courtesy of Gregory J. Raugi, MD, PhD.
---
Did this answer your question?
Additional feedback? (Optional)
Thank you for your feedback!