Answer
Nasal chondritis occurs in 48%-72% of patients with relapsing polychondritis. The nasal chondritis is acute and painful and accompanied by a feeling of fullness over the nasal bridge. Mild epistaxis may be present. A saddle-nose deformity may develop in longstanding disease. [32] See the image below.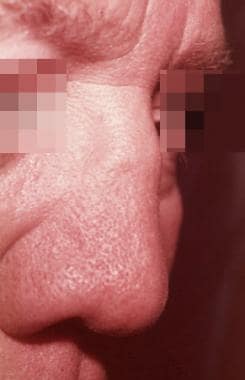 Saddle-nose deformity. Courtesy of the University of Washington, Division of Dermatology.
---
Did this answer your question?
Additional feedback? (Optional)
Thank you for your feedback!