Answer
Complications of relapsing polychondritis such as saddle-nose deformity (see the image below), systemic vasculitis, laryngotracheobronchial stricture, arthritis, and anemia in patients younger than 51 years portend a poorer prognosis than in age-matched patients with relapsing polychondritis without complications. In patients older than 51 years, only anemia is associated with a poorer prognosis. Renal involvement is a poor prognostic factor at all ages.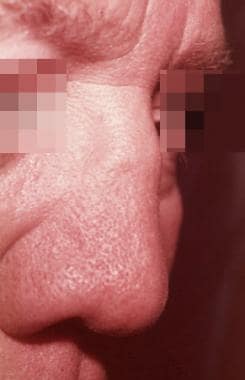 Saddle-nose deformity. Courtesy of the University of Washington, Division of Dermatology.
Complications of relapsing polychondritis include the following:
Vertigo

Tinnitus

Voice hoarseness

Joint deformity

Epiglottitis

Scleritis

Conjunctivitis

Iritis

Need for permanent tracheotomy (severe cases)

Severe pulmonary infection

Blindness

Frail chest wall

Respiratory failure

Aortic dissection

Glomerulonephritis-associated renal failure
---
Did this answer your question?
Additional feedback? (Optional)
Thank you for your feedback!