Answer
Histology reveals a focal necrotizing arteritis of generally mixed cellular infiltrate within the vessel wall. Nerve biopsy characteristically reveals axonal degeneration and fiber loss. Segmental demyelination may also be seen. [45]
When an inflammatory infiltrate is present around a vessel wall without necrotizing changes, features on nerve biopsy that strongly suggest angiopathic nerve injury include Wallerian degeneration and fiber loss in part of a fascicle, perineural necrosis, and neoangiogenesis around the epineurium or perineurium. [45] An occlusion of a muscular artery and leukocytic infiltrate is seen in the slide below.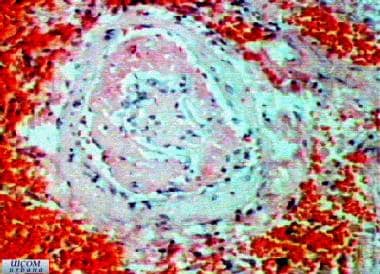 Polyarteritis nodosa (PAN) is characterized by fibrinoid necrosis of the arterial wall with a leukocytic infiltrate. In this slide, a large, pale occlusion of a muscular artery can be seen. Within this collagenous tissue is a leukocytic infiltrate, which is the hallmark of PAN. Courtesy of Urbana Atlas of Pathology.
Despite a general recommendation to avoid kidney biopsy owing to a risk of aneurysmal rupture and bleeding, renal biopsy abnormalities in PAN patients have been described. Biopsies from 15 patients with PAN with no or mild renal involvement at study entry only showed abnormalities in one patient. This patient, with HBV-related PAN, had renal vasculitis and membranoproliferative glomerulonephritis (MPGN). [56]
---
Did this answer your question?
Additional feedback? (Optional)
Thank you for your feedback!