Answer
Lupus nephritis is clinically evident in 50-60% of patients with systemic lupus erythematosus (SLE), and it is histologically evident in most SLE patients, even those without clinical manifestations of renal disease. (See the image below.) Evaluating renal function in SLE patients is important because early detection and treatment of renal involvement can significantly improve renal outcome.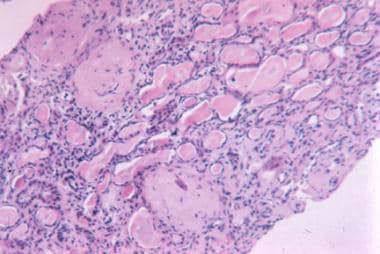 Advanced sclerosis lupus nephritis. International Society of Nephrology/Renal Pathology Society 2003 class VI (×100, hematoxylin-eosin).
---
Did this answer your question?
Additional feedback? (Optional)
Thank you for your feedback!