Answer
EM is the characteristic rash of Lyme disease. Classic EM is a flat to slightly raised erythematous lesion that appears at the site of the tick bite after 1-33 days bite (average, 7-10 days). [31] Without therapy, erythema migrans typically fades within 3-4 weeks.
EM usually is round or oval, but can be triangular or linear. Often, a central punctum is evident at the bite site.
EM enlarges by a few centimeters per day; single lesions typically achieve a diameter of approximately 16 cm (approximately 5-6 inches), but lesions as large as 70 cm have been reported. The case definition for Lyme disease used by the US Centers for Disease Control and Prevention (CDC) specifies that EM be greater than 5 cm in size. This size cutoff is only meant to be used for epidemiologic purposes, however; EM smaller than 5 cm has occasionally been documented in culture-proven cases. [32]
The entire lesion may be uniform in color or have central darkening. Central clearing is more common in European patients than in North American patients. More proximal to the clearing may be additional erythema leading to a so-called bull's eye or target appearance; however, this phenomenon, emphasized in the earlier literature, occurs only in a minority of patients (37% in one North American study of culture-proven EM). [33] See the images below.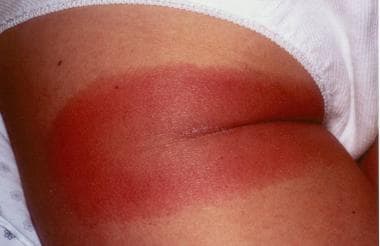 Lyme disease. This patient's erythema migrans rash demonstrates several key features of the rash, including size, location, and presence of a central punctum, which can be seen right at the lateral margin of the inferior gluteal fold. Note that the color is uniform; this pattern probably is more common than the classic pattern of central clearing. On history, this patient was found to live in an endemic area for ticks and to pull ticks off her dog daily.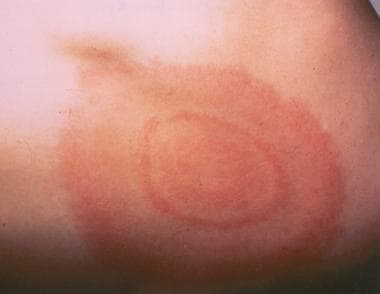 Lyme disease. Classic target lesion with concentric rings of erythema, which often show central clearing. Although this morphology was emphasized in earlier North American literature, it only represents approximately 40% of erythema migrans lesions in the United States. This pattern is more common in Europe. Courtesy of Lyme Disease Foundation, Hartford, Conn.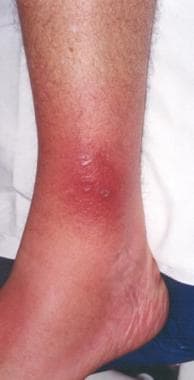 Lyme disease. The rash on the ankle seen in this photo is consistent with both cellulitis (deep red hue, acral location, mild tenderness) and erythema migrans (presentation in July, in an area highly endemic for Lyme disease). In this situation, treatment with a drug that covers both diseases (eg, cefuroxime or amoxicillin-clavulanate) is an effective strategy.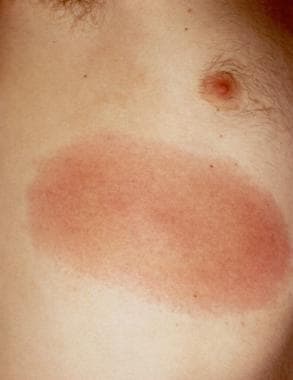 Lyme disease. The thorax and torso are typical locations for erythema migrans. The lesion is slightly darker in the center, a common variation. In addition, this patient worked outdoors in a highly endemic area. Physical examination also revealed a right axillary lymph node.
---
Did this answer your question?
Additional feedback? (Optional)
Thank you for your feedback!