Answer
Late or chronic Lyme disease refers to manifestations that occur months to years after the initial infection, sometimes after a period of latency. Signs and symptoms of chronic Lyme disease are primarily rheumatologic and neurologic. Acrodermatitis chronica atrophicans, the cutaneous feature of late-stage Lyme disease, is found almost exclusively in European patients.
Most patients presenting with late disease do not have a history of erythema migrans, because the rash typically leads to earlier treatment, which prevents the development of late disease. However, other manifestations of the disease may coexist or may have occurred in the past. Thus, a history of Bell palsy, aseptic meningitis, arthritis, acral paresthesias or dysesthesias (from peripheral neuropathy), or cognitive dysfunction (from CNS involvement) may be diagnostically useful.
Lyme arthritis is the hallmark of stage 3 Lyme disease. It tends to involve large joints (the knee is involved in 90% of cases). Arthritis must be differentiated from arthralgia, which is common in early disease.
The neurologic abnormalities of stage 3 Lyme disease involve both the central and peripheral nervous systems. Typical presentations include subacute encephalopathy, chronic progressive encephalomyelitis, and late axonal neuropathies, as well as symptoms consistent with fibromyalgia. Radicular pain can occur and present as acute disk disease. More common in European patients, radicular pain may be associated with lymphocytic pleocytosis (Bannwarth syndrome).
Borrelia encephalomyelitis is a rare but severe syndrome. Symptoms can progress gradually or in a relapsing-remitting pattern, with partial improvement after the attacks. The most common clinical manifestations of Borrelia encephalomyelitis are hemiparesis, ataxia, seizures, cognitive impairment, bladder dysfunction, and hearing loss. Myelitis is present in 50% of patients with late neuroborreliosis. Progressive spastic paraparesis or quadriparesis is common.
Acrodermatitis chronica atrophicans most commonly affects older women. Unlike erythema migrans, acrodermatitis chronica atrophicans tends to occur acrally, especially on the dorsal surfaces of the hands, feet, knees, and elbows. Early on, a minimally symptomatic erythema tends to occur in these locations. Initially, there is discoloration and inflammation; later, severe atrophy is noted. [13] See the image below.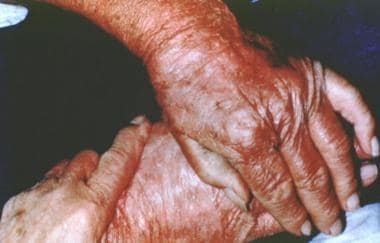 Acrodermatitis chronica atrophicans is found almost exclusively in European patients and comprises an early inflammatory phase and a later atrophic phase. As the term suggests, the lesion occurs acrally and ultimately results in skin described as being like cigarette paper. Courtesy of Lyme Disease Foundation, Hartford, Conn.
---
Did this answer your question?
Additional feedback? (Optional)
Thank you for your feedback!