Answer
Although no specific histologic findings characterize Behçet disease, biopsy samples of affected tissue often reveal widespread vasculitis of the arteries and veins of any size. Thrombosis commonly develops in affected areas and must be distinguished from vasculitis as a precipitating cause for organ-specific symptoms.
Other organ-system findings include the following:
Skin -Skin biopsy results often reflect nondiagnostic findings but can be used to differentiate alternate disease entities. Erythema nodosum lesions with characteristic findings and occasional granulomas; folliculitis; leukocytoclastic vasculitis; dermal inflammation and perivascular infiltrates; fibrosis; and mucosal lesions, including aggregated intravascular conglomerates of neutrophils, endothelial cell swelling, fibrinoid necrosis, and a mixed perivascular infiltrate (see the image below)

Eye - Cataracts, posterior and anterior uveitis, retinal vasculitis and thrombosis, cytoid macular degeneration, retinal detachment, and lymphocytic infiltrates in the iris (even during clinical remissions)

Brain - Infarctions due to vasculitis or thrombosis, meningoencephalitis, lymphocytic meningeal infiltration, or demyelinization

Joint - Superficial inflammatory synovial infiltrates, mainly polymorphonuclear lymphocytes, and deposition of IgG in the synovium

GI tract - Ulcerations from the buccal mucosa to the anus, intestinal perforation, peritonitis, infiltration with polymorphonuclear leukocytes and lymphocytes, hepatitis, cholecystitis, and pancreatitis

Heart - Pericarditis, myocarditis, endocarditis, coronary arteritis, and myocardial fibrosis

Lung - Serositis and vasculitis

Kidneys - Glomerulonephritis
Histology of Behçet disease ulcers revealing neutrophilic infiltrate and vasculitis.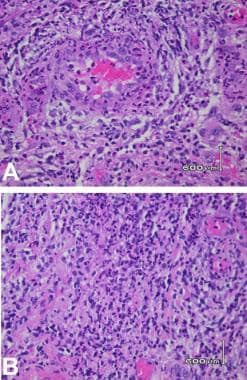 Histology of Behçet disease ulcers revealing neutrophilic infiltrate and vasculitis.
---
Did this answer your question?
Additional feedback? (Optional)
Thank you for your feedback!