Answer
Carpal tunnel syndrome (CTS) is a collection of characteristic symptoms and signs that occurs following compression of the median nerve within the carpal tunnel. Usual symptoms include numbness, paresthesias, and pain in the median nerve distribution. These symptoms may or may not be accompanied by objective changes in sensation and strength of median-innervated structures in the hand. [1, 2] See image below.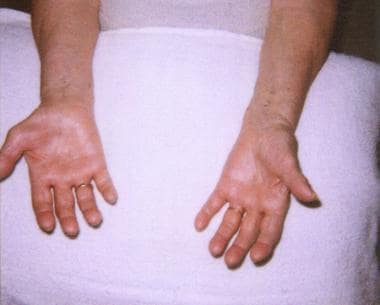 The hands of an 80-year-old woman with a several-year history of numbness and weakness are shown in this photo. Note severe thenar muscle (abductor pollicis brevis, opponens pollicis) wasting of the right hand, with preservation of hypothenar eminence.
---
Did this answer your question?
Additional feedback? (Optional)
Thank you for your feedback!