Answer
Answer
Interlaminar epidural injection refers to injection into the epidural space using an interlaminar approach. The injection can be performed through paramedian or midline approaches. (See image below.)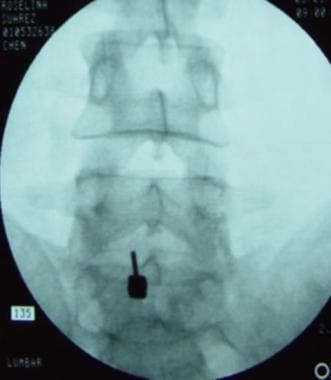 Interlaminar approach at the L5-S1 level on the left, anteroposterior view.
The epidural needle penetrates the following (in order, from superficial to deep):
Paraspinal muscles (paramedian approach) or interspinous ligament (midline approach)
Upon contact with the ligamentum flavum, a "loss of resistance" technique is implemented with saline until proper advancement results in penetration into the epidural space.
Botwin and colleagues used 5 mL of contrast media via a lumbar interlaminar approach to assess for flow. [30] In 36% of the injections, the contrast was noted to spread into the ventral space. Unilateral flow was observed in 84% of the injections. The amounts of cephalad and caudad flow averaged 1.28 and 0.88 levels, respectively.
---
Did this answer your question?
Additional feedback? (Optional)
Thank you for your feedback!