Answer
Answer
Epidural steroid injections (ESIs) have been endorsed by the North American Spine Society and the Agency for Healthcare Research and Quality (formerly, the Agency for Health Care Policy and Research) of the Department of Health and Human Services as an integral part of nonsurgical management of radicular pain from lumbar spine disorders.
The first documented epidural medication injection, which was performed using the caudal approach (see the image below; see also Approaches for Epidural Injections) was performed in 1901, when cocaine was injected to treat lumbago and sciatica (presumably pain referred from lumbar nerve roots). [1] According to reports, epidurals from the 1920s-1940s involved using high volumes of normal saline and local anesthetics. Injection of corticosteroids into the epidural space for the management of lumbar radicular pain was first recorded in 1952.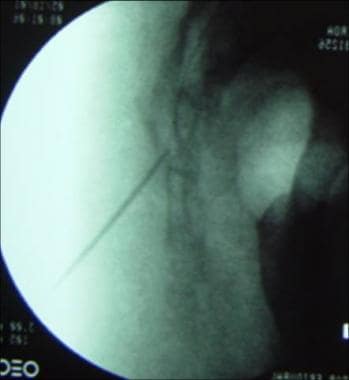 Caudal approach, lateral view.
See Back Pain: Find the Cause, Watch for the Comeback, a Critical Images slideshow, to help diagnose and manage this common problem.
Also, see the Pain Management: Concepts, Evaluation, and Therapeutic Options slideshow to help assess pain and establish efficeffective treatment plans.
ESIs can provide diagnostic and therapeutic benefits. Diagnostically, ESIs may help to identify the epidural space as the potential pain generator, through pain relief after local anesthetic injection to the site of presumed anatomic pathology. In addition, if the patient receives several weeks or more of pain relief, then it may be reasonable to assume that an element of inflammation was involved in his or her pathophysiology. Since prolonged pain relief is presumed to result from a reduction in an inflammatory process, it is also reasonable to assume that during the period of this analgesia, the afflicted nerve roots were relatively protected from the deleterious effects of inflammation. Chronic inflammation can result in edema, wallerian degeneration, and fibrotic changes to the neural tissues.
---
Did this answer your question?
Additional feedback? (Optional)
Thank you for your feedback!