Answer
Answer
Transcutaneous electrical nerve stimulation (TENS) currently is one of the most commonly used forms of electroanalgesia. Hundreds of clinical reports exist concerning the use of TENS for various types of conditions, such as low back pain (LBP), myofascial and arthritic pain, sympathetically mediated pain, bladder incontinence, neurogenic pain, visceral pain, and postsurgical pain. Because many of these studies were uncontrolled, there has been ongoing debate about the degree to which TENS is more effective than placebo in reducing pain. [1, 2, 3, 4]
The image below depicts a TENS unit.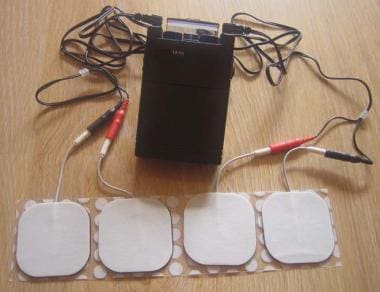 TENS (Transcutaneous Electrical Nerve Stimulator). Image courtesy of Wikimedia Commons.
See Pain Management: Concepts, Evaluation, and Therapeutic Options, a Critical Images slideshow, to help assess pain and establish efficacious treatment plans.
The currently proposed mechanisms by which TENS produces neuromodulation include the following:
Presynaptic inhibition in the dorsal horn of the spinal cord

Endogenous pain control (via endorphins, enkephalins, and dynorphins) [5]

Direct inhibition of an abnormally excited nerve

Restoration of afferent input
The results of laboratory studies suggest that electrical stimulation delivered by a TENS unit reduces pain through nociceptive inhibition at the presynaptic level in the dorsal horn, thus limiting its central transmission. The electrical stimuli on the skin preferentially activate low-threshold, myelinated nerve fibers. The afferent input from these fibers inhibits propagation of nociception carried in the small, unmyelinated C fibers by blocking transmission along these fibers to the target or T cells located in the substantia gelatinosa (laminae 2 and 3) of the dorsal horn.
Studies show marked increases in beta endorphin and met-enkephalin with low-frequency TENS, with demonstrated reversal of the antinociceptive effects by naloxone. [6] These effects have been postulated to be mediated through micro-opioid receptors. Research indicates, however, that high-frequency TENS analgesia is not reversed by naloxone, implicating a naloxone-resistant, dynorphin-binding receptor. A sample of cerebral spinal fluid in those subjects demonstrated increased levels of dynorphin A.
The mechanism of the analgesia produced by TENS is explained by the gate-control theory proposed by Melzack and Wall in 1965. [7] The gate usually is closed, inhibiting constant nociceptive transmission via C fibers from the periphery to the T cell. When painful peripheral stimulation occurs, however, the information carried by C fibers reaches the T cells and opens the gate, allowing pain transmission centrally to the thalamus and cortex, where it is interpreted as pain. The gate-control theory postulates a mechanism by which the gate is closed again, preventing further central transmission of the nociceptive information to the cortex. The proposed mechanism for closing the gate is inhibition of the C-fiber nociception by impulses in activated myelinated fibers.
---
Did this answer your question?
Additional feedback? (Optional)
Thank you for your feedback!