Answer
Central cord syndrome (CCS), an acute cervical spinal cord injury (SCI), was initially described by Schneider and colleagues in 1954. It is marked by a disproportionately greater impairment of motor function in the upper extremities than in the lower ones, as well as by bladder dysfunction and a variable amount of sensory loss below the injury level. [1, 2, 3, 4, 5] Magnetic resonance imaging (MRI), computed tomography (CT) scanning, and the production of plain radiographs of the cervical spine can facilitate the diagnosis of central cord syndrome. [7] The focus of physical therapy in CCS is the preservation of range of motion (ROM) and the enhancement of mobility skills. [8]
Although CCS has been reported to occur with particular frequency among older persons with cervical spondylosis who sustain hyperextension injury, it can be found in persons of any age and can be associated with various etiologies, injury mechanisms, and predisposing factors. [2] CCS, the pathophysiology of which appears in the image below, is the most common incomplete SCI syndrome.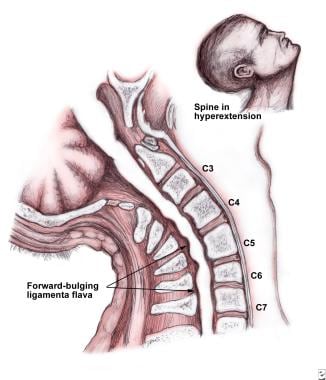 Illustration of the pathophysiology of central cord syndrome. Note the "pincer" effect on the central cord by anterior and posterior compression.
---
Did this answer your question?
Additional feedback? (Optional)
Thank you for your feedback!