Answer
Ultrasonography is used for the routine assessment of the upper urinary tract. Additionally, it may be used to identify the presence of ureteral obstruction, scarring, masses, and either renal or bladder calculi.
Plain radiography of the urinary tract, bladder, and kidneys is used in conjunction with ultrasonography to determine the presence of radiopaque calculi (see the image below). Excretory urography or intravenous pyelography (IVP) may be used for visualization of the collecting system. Isotope studies (eg, technetium-99m dimercaptosuccinic acid [DMSA]) are used for evaluation of renal cortex function.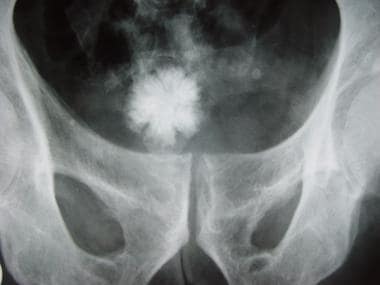 Large stellate urinary bladder stone. Image courtesy of Wikimedia Commons.
---
Did this answer your question?
Additional feedback? (Optional)
Thank you for your feedback!