Answer
Brachial neuritis (BN), also known as neuralgic amyotrophy or Parsonage-Turner syndrome, is a rare syndrome of unknown etiology affecting mainly the motor branches/fascicles of certain characteristic peripheral nerves in the arm. [1, 2] The term brachial may be a misnomer, as electrodiagnostic and radiologic evidence often points to a mononeuropathy or mononeuropathy multiplex rather than plexus involvement. [2, 3] Brachial neuritis usually is characterized by the acute onset of excruciating unilateral shoulder pain, followed by flaccid paralysis of shoulder and parascapular muscles several days later. The syndrome can vary greatly in presentation and nerve involvement. [4, 5, 6] (See images below.) Physical therapy for patients with brachial neuritis should be focused on the maintenance of full range of motion (ROM) in the shoulder and other affected joints. [7]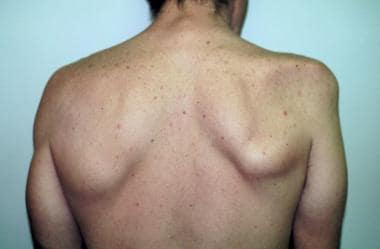 The patient is a 43-year-old farmer, shown 6 months after presenting with severe right shoulder pain and weakness. Note severe wasting of the right infraspinatus and deltoid and winging of the scapula.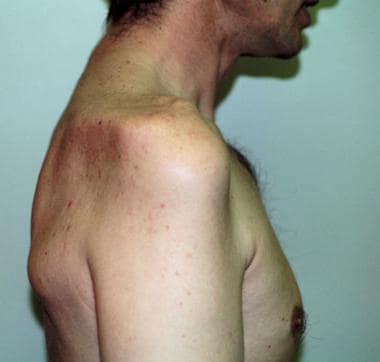 Same patient as above. Note again severe supraspinatus and infraspinatus wasting on the right.
---
Did this answer your question?
Additional feedback? (Optional)
Thank you for your feedback!