Answer
Scheuermann, or Scheuermann's, disease (juvenile kyphosis) is a deformity in the thoracic or thoracolumbar spine in which pediatric patients have an increased kyphosis along with backache and localized changes in the vertebral bodies. [1, 2] See the image below.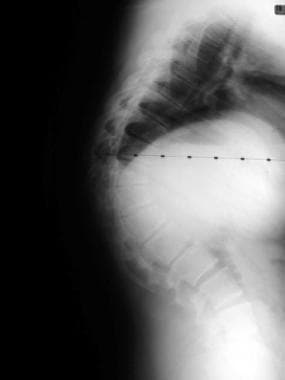 Preoperative lateral of a patient with an 85º thoracic deformity secondary to Scheuermann's disease.
Scheuermann's disease refers to osteochondrosis of the secondary ossification centers of the vertebral bodies. The lower dorsal and upper lumbar vertebrae are involved initially. The process may be limited to several bodies or may involve the entire dorsal and lumbar spine.
Scheuermann's disease probably is heterogeneous (ie, not a single entity but a group of conditions sharing similar features).
---
Did this answer your question?
Additional feedback? (Optional)
Thank you for your feedback!