Answer
The association between symptoms of mechanical low back pain (LBP) and imaging results is weak. Ordering of imaging studies should be limited to patients with clinical findings suggestive of systemic disease (eg, fever, weight loss without explanation, patients older than 50 y, alcohol use, or intravenous drug abuse) or trauma.
In the absence of any findings from the neurologic examination and no evidence of infection or cancer, imaging studies are not clinically helpful in the first 4 weeks of symptoms. The Quebec Task Force of Spinal Disorders (QTFSD) suggests that early radiographs are necessary only if the patient has neurologic deficits, fever, trauma, age older than 50 years or younger than 20 years, or signs of neoplasm. Anteroposterior and lateral views should be used on plain films unless spondylolysis is suggested, in which case oblique views are needed.
Persistent mechanical LBP may require additional imaging studies, including CT scanning, diskography, and 3-phase bone scanning. Sensitivity refers to the ability of the test or study to show that a disorder is present. Specificity refers to the ability of the test or study to rule in a specific disorder. The higher the number [0 to 1], the more sensitive or specific the test or study.
CT scanning has a sensitivity and specificity of 0.92 and 0.88, respectively, for a herniated disk.
MRI is superior to CT scanning for detection of many conditions because it presents soft tissue detail and multiple planar points of view; it should be used if infection, cancer, or persistent neurologic deficit is strongly suggested. See images below.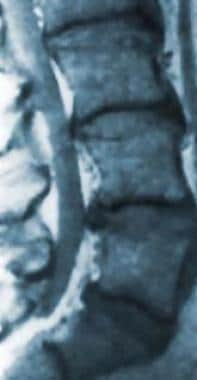 Magnetic resonance image of the lumbar spine. This image demonstrates a herniated nucleus pulposus at multiple levels.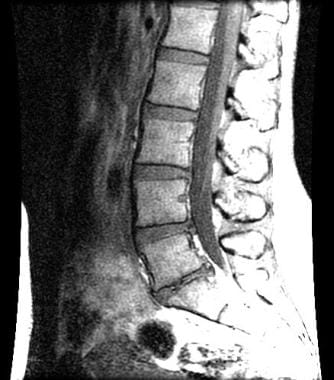 Sagittal magnetic resonance image showing loss of intervertebral disk height at L5/S1. Herniations of the nucleus pulposus are noted at L4/5 and L5/S1.
Diskography has a sensitivity and specificity of 0.83 and 0.78, respectively, for a herniated disk. This test should be interpreted in the context of data on pain reproduction.
A 3-phase bone scanning may be helpful if infection, metastatic cancer, or pathological fracture is suggested.
Thermography has no known role in the evaluation of mechanical LBP.
---
Did this answer your question?
Additional feedback? (Optional)
Thank you for your feedback!