Answer
Commence the history by asking for the patient's age, hand dominance, and occupation. Also ask about the patient's current work status and last day he or she worked. If the back pain is the result of a work-related injury, ask the name of the employer and inquire how long the patient has worked for this particular employer. Sample questions are as follows:
When did the current symptoms begin and what were you doing?

What and where are your symptoms now? (A pain diagram is helpful for localizing the symptoms. The patient can draw on a figure and give the clinician an idea of the nature of the pain as neuropathic or nociceptive.)

Rate the pain on a scale of 0 (none) to 10 (worst imaginable). This is a global pain rating that takes into account physiological and psychological aspects of the LBP.

What makes the pain better (eg, sitting, standing, laying, medications, physical therapy)?

What makes the pain worse (eg, sitting, standing, laying, medications, physical therapy)?

What affect have these symptoms had on sleep, mood, work, activities of daily living, and/or social functioning?
Use open-ended questions to ascertain the maximum information about the patient's history. Establishing a rapport with the patient is essential to detect serious conditions, provide insights into the patient's concerns and expectations, and to achieve the optimum positive response to treatment.
In addition to the history of the present illness, the past medical history should be obtained to rule out infections (eg, septic arthritis), congenital abnormalities (eg, dysplasias, juvenile rheumatoid arthritis), metabolic disorders (eg, Paget disease), or previous traumatic causes (eg, athletic participation, [21] military service).
The review of systems is helpful for relating the current symptoms to any other body parts or systems. Interruption in bowel or bladder function should be a reminder to consider more serious causes of back pain such as a tumor, infection, or fracture. Review of systems also should include a thorough medical history (including history of cancer, arthritis, infection, systemic disease that could increase susceptibility to infection, nocturnal pain, fever, drug use, depression, and symptoms suggestive of metabolic or metastatic disease). Ask for any history of headaches, peptic ulcer disease, prior cancer, or unexplained weight loss.
Assess for any history of previous treatments, such as the following:
Medications: Obtain as complete a listing as possible, including reasons for discontinuation.

Psychiatric or psychological therapy
Thoroughly screen for anxiety, depression, addiction, somatoform disorders, personality disorders, other prior psychiatric diagnoses, coping styles, and personality traits. Psychosocial factors (eg, depression, hypochondriasis, heavy alcohol consumption, tobacco use, menial work, poor job satisfaction, stressors at home and/or work) may accompany histories involving a work-related injury.
Assess the patient's vocational history. Look for consistency in the type of work and length of service with each employer since high school or college. Ask how many years the patient has been working for his or her current employer. Some cases have involved patients who have worked less than a week on a new job. Some work-related injuries are reported on a Monday or after a vacation. These are important dates for determining if the LBP was indeed work-related.
In a work-related LBP case, ask the patient about pending or planned litigation and related expectations.
Ask the patient what he or she thinks about the cause of the LBP.
Ask the patient what his or her goals are for the evaluation and treatment.
If the patient brought imaging study results (eg, plain radiographs, computed tomography [CT] scans, magnetic resonance imaging [MRI] scans), look for imaging evidence of herniated nucleus pulposus (seen in the images below), spinal stenosis, or other conditions associated with back pain.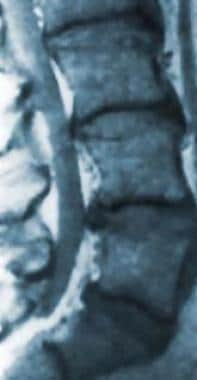 Magnetic resonance image of the lumbar spine. This image demonstrates a herniated nucleus pulposus at multiple levels.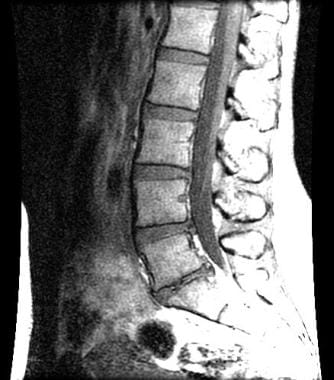 Sagittal magnetic resonance image showing loss of intervertebral disk height at L5/S1. Herniations of the nucleus pulposus are noted at L4/5 and L5/S1.
---
Did this answer your question?
Additional feedback? (Optional)
Thank you for your feedback!