Answer
The pathophysiology of mechanical LBP remains complex and multifaceted. Multiple anatomic structures and elements of the lumber spine (eg, bones, ligaments, tendons, disks, muscle) are all suspected to have a role. (See the images below.) Many of these components of the lumber spine have sensory innervation that can generate nociceptive signals representing responses to tissue-damaging stimuli. Other causes could be neuropathic (eg, sciatica). Most chronic LBP cases most likely involve mixed nociceptive and neuropathic etiologies.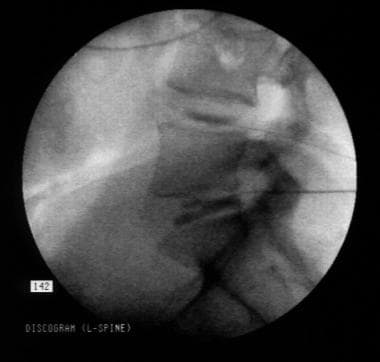 Diskogram showing examples of an intact disk and a disrupted disk at the lumbar level.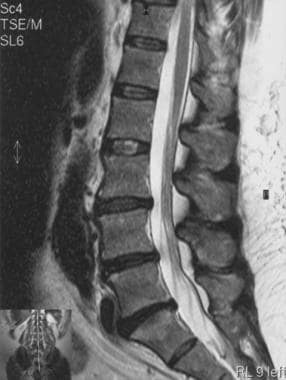 Degenerative changes of the lumbar spine, including decreased signal intensity and disk bulging at the L-3/4, L-4/5 and L-5/S-1 disks.
Biomechanically, the movements of the lumbar spine consist of the cumulative motions of the vertebrae, with 80-90% of the lumbar flexion/extension occurring at the L4-L5 and L5-S1 intervertebral disks. The lumbar spine position most at risk for producing LBP is forward flexion (bent forward), rotation (trunk twisted), and attempting to lift a heavy object with out-stretched hands. Axial loading of short duration is resisted by annular collagen fibers in the disk. Axial loading of a longer duration creates pressure to the annulus fibrosis and increased pressure to the endplates. If the annulus and endplate are intact, the loading forces can be adequately resisted. However, compressive muscular forces may combine with the loading forces to increase intradiskal pressure that exceeds the strength of the annular fibers.
Repetitive, compressive loading of the disks in flexion (eg, lifting) puts the disks at risk for an annular tear and internal disk disruption. Likewise, torsional forces on the disks can produce shear forces that may induce annular tears. (Degenerative disk forces are demonstrated in the image below.) The contents of the annulus fibrosis (nucleus pulposus) may leak through these tears. Central fibers of the disk are pain free, so early tears may not be painful. Samples of disk material taken at the time of autopsy reveal that the cross-linked profile of pentosidine, a component of the collagen matrix, declines. This may indicate the presence of increased matrix turnover and tissue remodeling.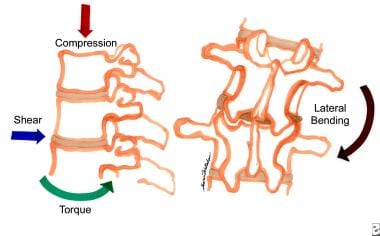 The various forces placed on the disks of the lumbar spine that can result in degenerative changes.
In lumbar flexion, the highest strains are recorded within the interspinous and supraspinous ligaments, followed by the intracapsular ligaments and the ligamentum flavum. In lumbar extension, the anterior longitudinal ligament experiences the highest strain. Lateral bending produces the highest strains in the ligaments contralateral to the direction of bending. Rotation generates the highest strains in the capsular ligaments.
---
Did this answer your question?
Additional feedback? (Optional)
Thank you for your feedback!