Answer
Mechanical low back pain (LBP) generally results from an acute traumatic event, but it may also be caused by cumulative trauma. [1] The severity of an acute traumatic event varies widely, from twisting one's back to being involved in a motor vehicle collision. Mechanical LBP due to cumulative trauma tends to occur more commonly in the workplace.Mechanical LBP remains the second most common symptom-related reason for seeing a physician in the United States. Of the US population, 85% will experience an episode of mechanical LBP at some point during their lifetime. Fortunately, the LBP resolves for the vast majority within 2-4 weeks. [2]
The image below illustrates a herniated nucleus pulposus at multiple levels, one of the causes of LBP.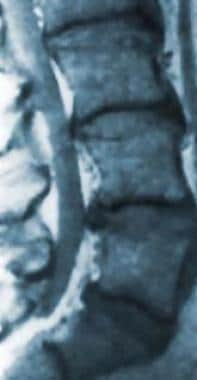 Magnetic resonance image of the lumbar spine. This image demonstrates a herniated nucleus pulposus at multiple levels.
See Back Pain: Find the Cause, Watch for the Comeback, a Critical Images slideshow, to help diagnose and manage this common problem.
---
Did this answer your question?
Additional feedback? (Optional)
Thank you for your feedback!