Answer
Kilian, Robert, and Lambl first described spondylolysis accompanied by spondylolisthesis in the literature in the mid-1800s. The number of different spinal abnormalities contributing to development of spondylolisthesis was appreciated only after Naugebauer's anatomic studies in the late 1800s. [1] (See the image below.) Radiographic studies allow visualization and grading of spondylolisthesis but may not always reveal the presence of an isolated spondylolysis (without spondylolisthesis). Most patients with low-grade isthmic spondylolisthesis and degenerative spondylolisthesis can be treated conservatively.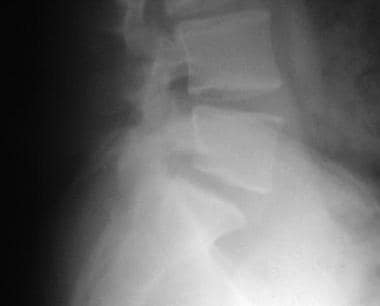 Radiograph of the lumbosacral junction showing a grade 1 spondylolytic spondylolisthesis at L5-S1.
---
Did this answer your question?
Additional feedback? (Optional)
Thank you for your feedback!