Answer
In addition to obtaining the standard AP and lateral lumbosacral radiographs, explicitly requesting coned-down (focused) views of the coccyx itself is often important to ensure adequate visualization and an appropriate degree of radiographic exposure (see the image below). Standard sacrococcygeal radiographs include the entire sacrum and coccyx, the lower lumbar region, and, frequently, the bilateral ilia and hip joints. Thus, images that are not coned-down to focus on the coccyx often result in suboptimal radiographic exposure at the coccyx, making the coccygeal segments difficult to clearly visualize.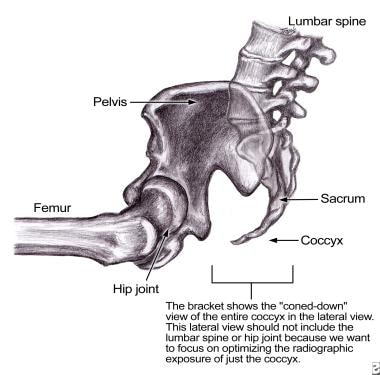 Lateral view of the pelvis and coccyx. The bracket shows the area of focus for radiographs that would provide a coned-down view of mainly the coccyx and distal sacrum. A more common lateral view would often also include larger bony structures, such as the lumbar spine and femur, all of which would make it difficult to optimize visualization of the small bones of the coccyx. In patients with coccyx pain, these coned-down, lateral views of the coccyx can provide important diagnostic information. Coned-down images obtained in the weight-bearing (seated) position can be compared with those obtained in a non–weight-bearing position (eg, side lying), thus allowing assessment for dynamic instability (eg, dislocations that occur only while seated).
---
Did this answer your question?
Additional feedback? (Optional)
Thank you for your feedback!