Answer
Piriformis syndrome often is not recognized as a cause of low back pain (LBP) and associated sciatica. This clinical syndrome is due to a compression of the sciatic nerve by the piriformis muscle; it is similar in clinical presentation to LBP with associated L5, S1 radiculopathy due to diskogenic and/or lower lumbar facet arthropathy with foraminal narrowing. (The image below demonstrates the origins of both conditions.) Not uncommonly, patients demonstrate both of these clinical entities simultaneously. This diagnostic dilemma highlights the need for patients with LBP and associated radicular pain to undergo a complete history and physical examination.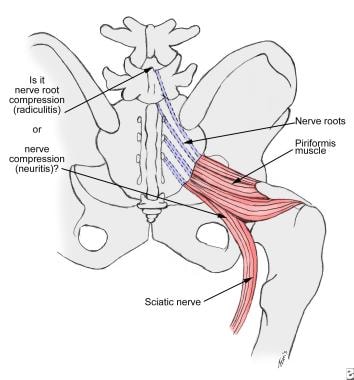 Nerve irritation in the herniated disk occurs at the root (sciatic radiculitis). In piriformis syndrome, the irritation extends to the full thickness of the nerve (sciatic neuritis).
Many cases of refractory trochanteric bursitis are observed to have an underlying occult piriformis syndrome due to the insertion of the piriformis muscle on the greater trochanter of the hip. If a patient's trochanteric bursitis and piriformis syndrome are treated inadequately, both conditions remain resistant to medical management.
---
Did this answer your question?
Additional feedback? (Optional)
Thank you for your feedback!